Increasing the value of know your customer (KYC) data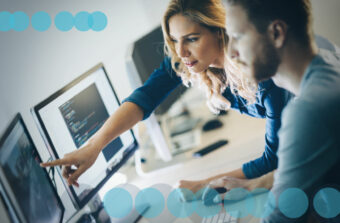 Banks are reliant on data to achieve risk-based decision-making and meet continued regulatory compliance. However, know your customer (KYC) data can offer much more than regulatory compliance. By increasing the value of KYC data to enrich the database, banks can take a proactive approach to reducing their risk exposure, improving customer experience and understanding their customers better.
What is KYC data hygiene?
Traditional KYC process flows involve a series of sequential steps, often overseen manually. While legacy processes continue to perform, regulatory changes have laid bare their inability to deal with the volume of data required to satisfy latest regulatory demand.
Data hygiene is necessary to pre-process data from multiple non-standard formats. It is the process of checking records held within the database for accuracy and completeness. Common errors include duplication, outdated/incomplete data, and improper parsing of record fields.
KYC data challenges
Data hygiene can be defined as components that represent the criteria that must be satisfied to make information 'reliable'. There are four components to consider: completeness, correctness, timeliness, and validity of information.
These four criteria are difficult to achieve when KYC data is obtained from multiple sources and delivered via inconsistent data fields. High volumes of data, or too much data, without consistent components are difficult to integrate with existing platforms and tools. Return on investment and workflow capabilities are therefore not maximized in the shorter term.
The risk of human error and time delays are exposed when data is stale, or not collected and merged consistently. Often banks experience higher incidents of repeat or unnecessary customer outreach cases. Subsequently impacting customer experience in a negative form. Derailing the banks innovation momentum can be a result of an inability to perform meaningful analysis owing to poor data hygiene.
The importance of increasing the value of KYC data
KYC data hygiene helps banks assess the risk associated with corporate customers. By leveraging automation with match and merge capabilities banks can identify high-risk customers early in the KYC process. Additionally, throughout the customer lifecycle, particularly at refresh, using a proactive approach will reduce the bank's potential risk exposure.
KYC data goes beyond entity structures and ultimate beneficial ownership. It can contain additional information, which, with further analysis allows a bank to gain deeper insight. Customer experience can be improved, and the bank can offer additional products to support its growth strategies.
While KYC data collection is primarily about compliance there is an opportunity to make this process more efficient and cost-effective. Implementing automation for data hygiene can streamline the KYC process reducing manual workloads and operational costs.
The role of automation
Automation brings the ability to standardize the data. Converting structured and unstructured file formats using data primacy rules against multiple sources of data. Prioritization values can be applied based on source or value. Data hygiene rules cleanse the data with match and merge to improve data quality and add value.
Unifying the data attributes into one single record for the benefit of the front, middle and back office is the way forward. Digital profiles are built and delivered which can be accessed in real-time by multiple teams across the bank allowing for scale and growth.
Quickly increasing the accuracy of your data by matching, verifying, normalizing, and detecting duplicates, leaves the bank with higher quality data. The issue of garbage in/garbage out is a truism which is consequential and expensive. However, automation can overcome this with a single connection to data inputs, making it easy to scale and add new sources.
Connections between disparate systems are maintained through API (Application Programming Interface) integrations. Data can easily be transferred from one system to the other.  More importantly, without the conversion of spreadsheets and data from multiple third-party resources from onerous hours of data entry from one field to another.
Entity resolution, normalization and primacy rules allow deeper insight and a single source of truth with less outreach. Additionally, complete digital KYC profiles are delivered via an API connection. Profiles can link directly into the customer lifecycle management (CLM) to improve workflows and deliver deeper customer insight.
Banks can optimize their KYC data  
Data is the fuel that powers KYC, therefore, it cannot be an afterthought. The foundations of the data architecture must ensure the hygiene of all material data including structured and unstructured is paramount.
Further, by implementing strategic data analysis and leveraging automation, banks can unlock valuable insights, enhance customer experience, mitigate risk, and streamline operations.
Realizing more value from KYC data beyond its legal requirement is a pathway to achieving a competitive edge and longer-term success in today's data-driven business landscape.
The confluence of cleaning up KYC data, data hygiene, automation and its development into real-time analysis is no longer locked away in the back office.
You also might be interested in