changes to know your customer (KYC)
According to Rosenkranz, these papers are reflective of wider changes occurring in Singapore and the wider Asian region: "The last 10 years have seen tremendous changes in the regulatory landscape both in terms of the actual rules and laws as well as the approach the regulator has adopted when it comes to engaging with their regulated entities and the key stakeholders within the country and on an international level. The relevant AML guidelines have been revised on several occasions to be in line with the international standards recommended by The Financial Action Task Force (FATF) – significant changes included the treatment of local Politically Exposed Persons (PEPs), tax evasion as a predicate crime, expanding the AML/CFT obligations into the non-financial sector and so on. ACIP is a successful example of the Monetary Authority of Singapore (MAS) public-private partnership model which looked to set up industry groups to identify and solve key challenges in the AML space. Furthermore, MAS engages the relevant stakeholders during the consultation phase of new or amended guidelines and works closely with its international peers and relevant organisations to optimise the effectiveness of AML controls, data sharing and enforcement actions."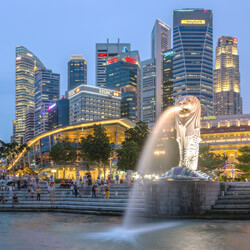 Regulated firms of all stripes, including financial service firms, but also law and professional service firms, will need to up their game from this point on to conform to the new regulations. Due diligence will need to be conducted at an enhanced level, both for customers opening new accounts and in monitoring transactions.
"Intermediaries, for example, Designated Non-Financial Businesses and Professions (DNFBPs) play a very significant role in detecting and mitigating money laundering activities" says Rosenkranz.
"The level of understanding of AML/CFT threat is increasing but needs to accelerate, and so do the tools that these firms use in complying with their AML obligations. Singapore is putting in significant efforts to address these challenges, so significant improvements can be expected in time to come. Other countries have only just begun this journey which means the DNFBP sector is still at risk of being exploited by criminals."
As Mr Chua Kim Leng, Special Advisor, Financial Supervision Group Monetary Authority of Singapore, said in a speech announcing the launch of the two papers:
Regulated firms must be alert to any transactions or behaviours that are unusual or inconsistent with what you know of their business activities, source of funds and wealth, as well as their risk profile. Robust, risk focused onboarding and customer review practices, and well-designed screening and transaction monitoring systems, are not only fundamental, but critical defences against such threats.
The two papers give a number of pieces of advice, particularly to financial services firms. These include monitoring transactions between corporate vehicles with the same beneficial owner; establishing the source of funds; monitoring cash deposits into current accounts; being aware of account names that are very similar to major companies, and; watching for deviations in account use. Why was the account opened, and if it has changed in purpose, why?