our key takeaways from the LegalTech Vienna and Zurich events
The spotlight has been on LegalTech in the DACH region, with events in Vienna and Zurich exploring the latest developments.
After attending both conferences, our Business Development Director, Chika Okoli, shares what some of the key speakers had to say, the main themes of discussion, and his reflections.
Vienna
More than 300 delegates from leading local and international law firms, including Schönherr Rechtsanwälte GmbH (Schönherr) and DLA Piper, met at the Legal Tech Konferenz 2019 in Austria, which marked my first stop during my visit to the DACH region for Encompass.
The third edition of the conference, spearheaded by Sophie Martinetz, founder of Future Law, moved on from theorising about the possibilities of LegalTech to showcasing application and successfully executed projects.
all about execution
Execution was the buzzword and real focus of the conference, as was shown by the presentations by various solution vendors and clients, such as Andreas Böcskör, legal Counsel of Schoeller-Bleckmann Oilfield Equipment AG and CEO of Advoodle Legal Tech GmbH. He outlined the dynamic contract management software they launched, which helps organisations collaboratively and efficiently deal with fluid contract outlines ahead of signing.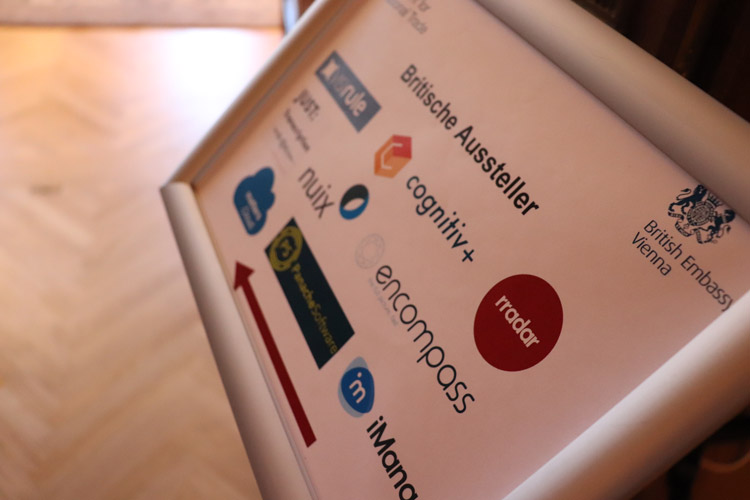 Applications of technology for legal processes that enabled the formation of the first GmbH (limited liability company) completely online in Austria were also presented to highlight the application of LegalTech.
Encompass was invited by the Department for International Trade, via the British Embassy in Vienna, to present on innovative regtech during the programme.
This was a great opportunity to engage with many great names in the industry and, in addition to giving a solution overview and speaking about the global KYC/AML compliance related challenges organisations face, I was able to really delve into the benefits of our platform.
During the day, there were also a number of interesting discussions on driving digital transformation and the adoption of LegalTech. Topics explored by the select panel included how to get stakeholders involved in project execution and how adoption is driven.
Markus Laurer from Wien Energie stated that there has to be a strategic evaluation on what the organisation is trying to develop into that has to be formulated by management but has to be tackled by a team.
Further input came from Alexandra Jirovsy, EVP Legal Services at Kapsch Group, who feels that a purely top-down approach doesn't work and that LegalTech projects have to be driven by dedicated teams that ultimately benefit from the implementation.
delegates' conclusions
One of the most valuable aspects of the gathering, for me, was the chance to discuss the application of LegalTech with fellow delegates and get the perspectives of people at different points.
They concluded:
law firms are increasingly viewing digitisation as a competitive advantage, the way incumbent banks are using technology to ward off challenger banks
clients, especially digital natives expect a seamless experience
all businesses are expected to be digital
accessing UBO data from Austria's state-run UBO register WiEReG is no guarantee for AML compliance but a "starting point for identifying and verifying the identity of beneficial owners"
Zurich
Next, I headed to the second UK LegalTech Mission to Switzerland. Held in Zurich, the event was organised by the British-Swiss Chamber of Commerce, in collaboration with the Department for International Trade, Scottish Development International and University of St Gallen.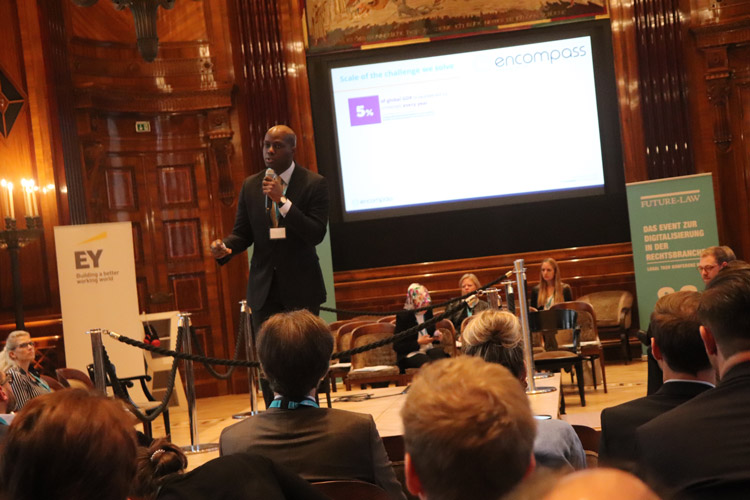 We were delighted to be one of seven UK companies given the chance to pitch to an audience of innovators, practitioners, users and decision makers.
The schedule was packed with great speakers, including Jane Owen, Her Majesty's Ambassador to the Swiss Confederation and non-resident Ambassador to Liechtenstein.
Looking at possibilities for the UK, she shared the useful reflection that Switzerland is the country's fourth largest market for services exports, and there is an active knowledge and human resource exchange between the two countries.
Automation was also firmly on the agenda, as lawyer Dr. Pierre G. Zickert gave a rundown of his experience with automation tool Hotdocs, which allows firms to make amendments to contracts and collaboratively work on them, proving cost and time effective.
Dr. Zickert gave some best practice tips when it comes to implementing an automation tool, which gave an insight into a valuable perspective for me to consider, such as:
before automation can happen, map processes and analyse
automate in manageable chunks and move on after a part of the process is under control
An especially relevant part of his slot came when he discussed the human element of digital transformation, telling how getting internal departments engaged is key for the success of a project.
At Encompass, we know that using automation doesn't mean humans aren't needed to execute a process but, rather, it allows their time and skills to be dedicated to more stimulating and crucial tasks.
This opportunity for employees to concentrate on less run-of-the-mill duties can have wide-ranging and perhaps unexpected benefits. The legal sector is competitive, meaning there is a race to secure the best talent. These individuals won't be enticed to join a company if they're bogged down by repetitive tasks, so automation can also contribute to talent retention.
reflection
Looking back on the events both in Vienna and Zurich, the central theme was execution, as highlighted by various speakers, who pointed to the levels of technology adoption and digital transformation execution in Switzerland, China and the UK.
While they both provided opportunities for networking and to hear from influential figures in the space, for me, attending also underlined the importance of digital transformation to the UK, which is particularly evident in the investment we are seeing in technology across the board.
Regtech is a driver of digital transformation and, as this is leveraged even more, there is the chance to carve out a position of leadership, not only in this space, but in other connected areas.
Considering LegalTech particularly, it is clear to me the legal industry is no longer the last bastion of manual processes – digitisation in the sector is here to stay.
about Chika Okoli
BUSINESS DEVELOPMENT MANAGER
Chika has spent over a decade in business development for financial services and process automation providers that operate via compliance-driven trade platforms in the UK and Central Europe. After leading working groups in Germany and publishing on digital transformation, he is taking his keen interest in its enabling potential to global KYC/AML optimisation projects.
Encompass' intelligent process automation conducts live document and data collection, analysis and integration from public and premium sources to bring transparency to complex corporate structures and ultimate beneficial ownership, delivering the most accurate and complete KYC on demand.