By Mark Nuttall

It was great to be at the recent Annual Conference with the R3 community in Berlin. I was joined by our newest industry Advisor Ian Scofield and the Encompass Team for our first appearance at this flagship event.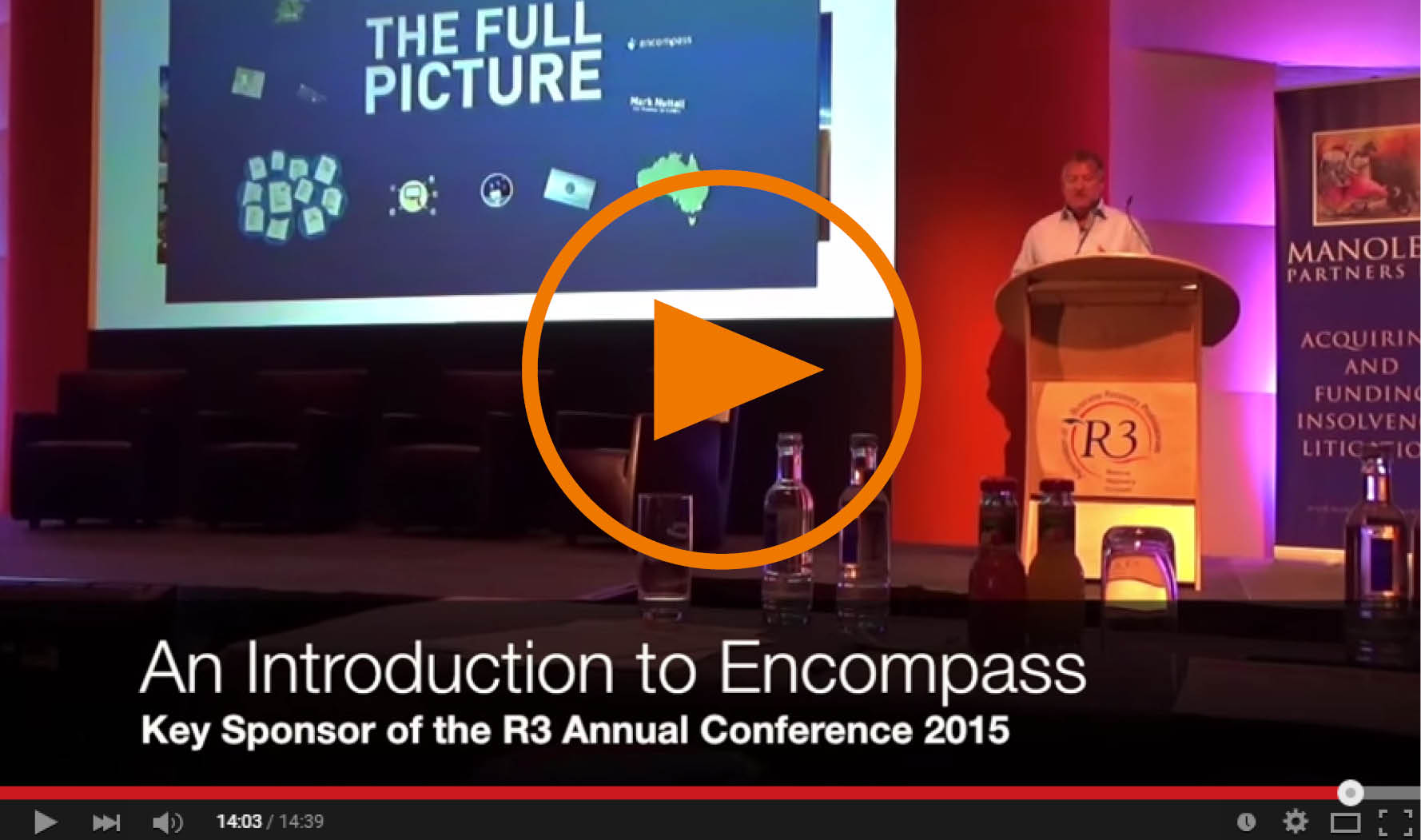 The timing was perfect for us, having just launched our offering in the UK. It was also particularly relevant to be at the R3 conference during such a period of change for the industry – as highlighted by this year's theme, the 'winds of change'. Some of the "winds" or trends which I covered in my presentation, which were also canvassed in a number of the other sessions include:
Widespread adoption of Technology – Increasing pressure from clients and partners to leverage available technology to become more productive and competitive. Analytics, visualisation, cloud, SaaS are all increasingly prevalent in professional services.
Environmental changes – Digital economy is evolving. Data not paper. Many businesses now have initiatives to minimise paper.
Economic pressures- Low interest rates have led to a benign market resulting in less insolvencies, more advisory and potentially, more speculative work.
Perceptions in Society over high fees, Minister's postbag, adverse media, more tendering and more non-chargeable hours on speculative pre-appointment work.
Increasing Regulation – Such as the Insolvency (Amendment) Rules, SIP 16 'pre-pack' pool, leading to more tendering, pressure on estimates, Potential increase in un-billable hours on fixed or estimated fees, need to keep initial costs down
So what is the impact of these trends on the industry? Well put simply – the combination of these factors means Partners must now focus on business development and competitive advantage more than ever. At the same time they need to ensure the firm extracts maximum value from every case that comes in.
To grow during this period of change and beyond, partners need to ask:
How can we respond rapidly and recover more?
How can I reduce time costs and increase productivity on every case?
How can we minimise risk and improve compliance in response to increasing legislation?
Well this is where we believe Encompass can offer a solution and add a lot of value to firms here in the UK in the same way it has already done in Australia.
So, what is Encompass and why is visualisation fast becoming the industry standard? First of all, we're not a data company such as DnB, Creditsafe or Zoopla, however, we do work with these excellent businesses. We are a visual information management platform. We are working with the current trusted data sources that your firms use today and we overlay significant added value by improving your access and ease of use for all of them simultaneously.
Encompass removes the hassle from up front search and review, dramatically streamlining and speeding up the entire research process. Our platform harnesses the power of cloud computing to analyse the reports and automatically identify and uncover the key entities from within the various data sources to reveal company structure and asset ownership.
A particular strength is its ability to overlay multiple data sets to identify the track record of the director; using just a few clicks you can establish their previous and current directorships, and look at the health and history of those other companies.
We worked recently with a firm who had been investigating a particular director, and it had taken a day and half just to get this company structure ironed out. Using Encompass, we were a
ble to return the exact same diagram within a few minutes. This is quite a time saving, and therefore a cost saving, especially where this is pre-appointment or part of a fixed fee appointment, that's a significant overhead reduced!
After completing significant market research in the latter part of 2014, in February this year we invited a group of 8 firms referred to us to take part in the Encompass 'Pre Release Group', which has guided our development. After interviewing the users about their experience and seeking to understand how Encompass impacted their business, we've witnessed first hand how the industry is getting more and more competitive, particularly at the early stages.
The PRG process has also enabled us to develop a solution customised to the needs of your industry. Encompass is therefore coming in at a crucial point, enabling you to:
Improve compliance and reduce risk. Encompass helps standardise work across different people and teams in your firm, remove steps and therefore remove errors – so you can minimise risk and improve compliance and protect both personal and commercial reputations.
Boost profits and productivity. Minimise the time costs on each job, estimate more accurately and increase profits by streamlining work and becoming more competitive
Respond faster to win more work and recover more. Differentiate from the competition and identify assets as early as possible in the process to realise more and secure the best possible outcomes.
We continue to listen and learn, I'm very proud to say that we are truly 'customer centric' business and develop monthly releases guided by our customer feedback and I believe this has enabled Encompass to deliver an exciting, differentiated and compelling proposition, which is now fully available in the UK
To put it as plainly as possible, Encompass enables you to get the full picture, fast.
Thank you to the many people who came to see us at the stand for our barista quality coffee and workspace demos. It was great to meet more of the R3 community and we look forward to seeing you at one of the upcoming R3 Regional Technical Meetings we will be sponsoring throughout the remainder of the year.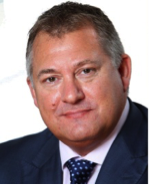 Ian Schofield, recently retired Insolvency Practitioner and BDO Partner, is now an industry advisor to Encompass. He and Mark Nuttall VP, UK & EMEA recently presented at the R3 Annual Conference on how Encompass assists restructuring and insolvency professionals. Watch the video below or read the recap in Mark's blog below.