Research finds control of compliance is 'biggest benefit' of RegTech implementation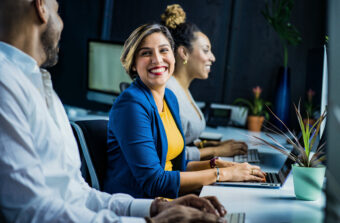 More than a third of technology leaders say that the biggest benefit of RegTech for their business has been gaining control over their compliance processes.
Encompass surveyed global industry professionals to gain a view of what implementing solutions had meant for organizations across sectors, with the majority of respondents calling out the impact on their approach to compliance as a standout factor.
Takeaways from the poll include:
38% said control of compliance was the main benefit of RegTech
19% of respondents cited the scalability of compliance offered by solutions as most important
19% told how reduced risk exposure was key for them
4% pointed to decreased cost of compliance as being of most value
Participants had varying profiles, coming from organizations of less than 200 people, to more than 10,000 and, interestingly, the results tell of differing priorities. 56% of those responding from businesses with 200-1000 staff members said tackling risk exposure had been what solutions had brought for them, whereas, for those at much bigger organizations, compliance remained paramount.
This comes after earlier research delved into the initial drivers for implementation, with compliance again coming out on top, as respondents highlighted the need to demonstrate their adherence to evolving regulations as front of mind when considering whether to look to invest in technology.
The need to ensure processes are robust – or face the consequences – was in focus once again, when it was recently revealed that The Financial Conduct Authority (FCA) received more than 2,000 separate allegations of misconduct, including fraud, money laundering and compliance complaints.
The data, analyzed by a Parliament Street think tank and contained in the FCA's newly published Annual Report and Accounts 2020/21, details the allegations, which were provided by a total of 1,046 'whistleblowers' in the last 12 months.
The number of reports – from staffers against their own organization – is a small reduction when compared to the 1,100 reports in 2019/20. This year, 15 led to 'significant' moves to mitigate harm, which may have included enforcement action.
Wayne Johnson, CEO and co-founder, Encompass, said:
As the fight against financial crime continues, businesses from all sectors must improve the effectiveness of their compliance programmes and due diligence, not just for the sake of 'ticking boxes', but to help prevent further unscrupulous activity.

These findings underline just how important it is to invest in the latest RegTech, which can ensure robust compliance, and the business benefits that can be seen when doing so.
You also might be interested in