Responding with RegTech – the KYC opportunity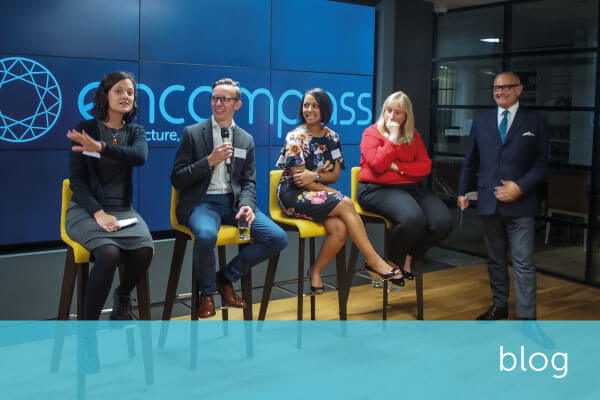 Responding with RegTech – the KYC opportunity
It was my pleasure to welcome a group of some of the UK's foremost RegTech practitioners and commentators to a new venue – Scotland House, in London, for an evening of discussion and conversation.
[two_third]To facilitate conversation, we welcomed four prominent industry specialists to share their thoughts on RegTech. Yas Jaffer, Amy Bell, Sarah Kocianski and Jason Boud all joined me on stage to give their views and answer questions from our select audience.
Yas Jaffer
Yas is a Partner at JJC FinTech. Prior to establishing JJC FinTech with Jon May in February 2017, Yas was Global Head of Business Development at IHS Markit where she designed a suite of Reg and Compliance solutions and one of the first market industry-led KYC utilities. She has been recognised by the Financial Times as one of 40Under40 professionals to watch.
Amy Bell
Amy Bell is a Compliance Consultant and Director of Amy Bell Compliance where she helps firms adapt to the changing legal landscape by supporting everyone in a firm to understand compliance and how to apply risk management principles to improve client service and deliver efficiency.
Amy is also chair of the Law Society's Money Laundering Task Force and the author of the Law Society's Elearning and Toolkit on the Bribery Act.
Jason Boud
Jason co-founded Beyond Enterprise in 2014; a company providing advisory services specialising in Identifying and Reducing Risk, before setting up the RegTech Forum – a vibrant community of regulators, regulated firms and their technology and service providers. Jason is a Speaker, Advisor, FinTech & RegTech Mentor/Investor at Barclays Techstars accelerator , StartUpBootCamp FinTech and the FinTech Innovation Lab.
Sarah Kocianski
Sarah is a Senior Research Analyst for BI Intelligence. She is based in London and covers FinTech. Prior to joining BI Intelligence she worked at a global technology company, specialising in work with Financial Services.
The current marketplace
I am indebted to Jason for being able to set the scene as to where we are with RegTech, particularly in relation to its older sibling, FinTech. As the older and more established of the two technologies, there is much that we can learn from the success of FinTech startups. As part of his remit, he has done some sterling work in identifying the similarities of the two, and he was able to share these with our audience.
He identified that RegTech had exploded over the course of just the last 12 months. While there may have been just 150 or so RegTech companies in the UK a year ago, there are now 600 to 700. Only a few short years ago there were only a couple of hundred FinTech firms, whereas now we see 10,000. It was clear that he saw no reason why the same should not apply to RegTech as regulated firms begin to understand what opportunities RegTech firms can provide.
Jason also explained how at this time we are beginning to see lots of consolidation throughout the sector. Importantly, he was also able to identify some clear leaders that are coming to the fore in the RegTech market. To me, this identifies a certain level of maturity in our market that may not have been readily identifiable 12 or 18 months ago – and naturally, we're delighted that encompass are one of these leaders!
The problem for regulated firms
For their part, Sarah, Yas and Amy were able to give a clear account of the issues that are faced by regulated firms, both in the financial and professional and legal sectors.
From their different perspectives, Yas, from a financial services viewpoint, and Amy, from a legal viewpoint, were both able to illustrate these issues. From the legal standpoint, Amy explained how there had been new regulations (such as the 4th Money Laundering Directive) which had placed new requirements across legal firms. Risk assessments and identification of an Ultimate Beneficial Owner particularly, are new burdens for the legal sector, and one in which currently, they are not suitably equipped to deal with. Encouragingly, she has seen in her experience as an adviser to the industry more emphasis on the use of technology, to remove some of the burden of proof from the customer.
Yas emphasized some of the issues that continue to be affecting financial service firms, including having issues across geographies; having teams and individuals looking at the same data and a continued reliance on manual process.
As I emphasized in my opening remarks, it is no longer a badge of honour for financial service institutions to have thousands of compliance staff, as they once had, and Yas reiterated this remark. By having hundreds or potentially even thousands of people working in compliance, there are some obvious questions that get thrown up which do not have a readily available answer. How do you deal with problems with policy interpretation? How are problems with human error dealt with?
Moving forward, banks and other institutions need to recognise where they want or need to be, and begin to map out the processes that will help them get to this point. Compliance, she argues, is a "living asset", which needs to be managed accordingly.
Solution
As one might expect, it was no surprise that the panel were effusive in their praise of solutions to these problems. As Jason identified, RegTech might be comparatively new, but it offers banks and other regulated firms a solution that is affordable, scalable and integrates with existing technology. The panel identified that some organizations that were early adopters of tech in their compliance function are now beginning to see profit, created through the process efficiencies that RegTech has created. As Sarah noted in her concluding remarks, while many smaller and challenger banks have adopted RegTech as a means to tame the compliance function, the larger – and often older – banks have not at this time done enough.
In this lovely new venue, situated on the Thames riverside, I was delighted to be able to discuss and critique the merits of RegTech with some of the foremost minds on the subject. As well as the insights offered by Sarah, Amy, Yas and Jason, we received some really interesting – and challenging! – questions from attendees which stretched our thinking yet further. There is absolutely a need to continue to meet, debate and refine our thinking on RegTech to ensure that moving forward, tech firms, the regulator and regulated firms are all aware of the undoubted benefits it can bring to firms. I hope this to be the first of many Encompass events.
You also might be interested in