Streamline KYC to reduce banking onboarding times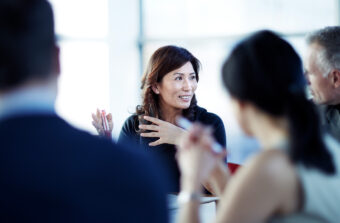 With predictions of a nine percent rise in global banking revenues per year through to 2025, banks need to capitalise on the growth opportunity stemming from corporate clients with better onboarding.
Benefiting from this, however, requires banks to review and streamline their processes. Reducing their onboarding times will be key if they are to gain competitive advantage and efficiently win more business.
Greater efficiency is an area in which the operations lead can strongly influence. Moving away from a manual approach to KYC that delays the onboarding process and creates bottlenecks must be a priority. With the total average onboarding process for a new corporate client taking up to 100 days in some cases, banks must look to technology to ease the pain of manual inefficient onboarding.
Poor time-to-revenue and a negative impact on customer experience are just two pain points felt by the Operations team. Automating the KYC element of the process can have an immediate and positive impact on both areas by reducing analyst time from hours to minutes.
Operational challenges of KYC onboarding
KYC onboarding has long been a critical part of the client lifecycle and has significant implications on how quickly a bank can book revenue. And yet, financial institutions globally spend billions of dollars every year on onboarding and maintaining clients inefficiently with manual processes that create friction.
Specifically, the operational lead will be tasked with implementing a streamlined KYC and onboarding process that is consistent, accurate and reliable. There will also be additional internal pressure from the front office to improve onboarding times and reduce client outreach to create a frictionless experience. It will no longer be acceptable to incur extensive case rework, with up to 6-eye checks, to win against competitors if the bank is to gain an increase in customer advocacy.
In addition, there can be further operational difficulties: –
Influx of new account openings as volatility within the sector increases
Lack of scalable processes which results in additional and expensive outsourced resource
Use of multiple systems that are siloed, difficult to integrate or expensive to change
Slow onboarding times due to manual, unreliable and inconsistent processes and procedures
Complex corporate client onboarding involves a variety of disparate data and document sources which can be complex to review and interpret
Implementing technology to automate KYC
The goal is to streamline onboarding with dynamic KYC process automation. Using technology, delivered from a digital solution such as Encompass, will provide a fully automated, and auditable, process that can rationalize the process of KYC into minutes rather than hours to deliver complete real-time digital KYC profiles.
The technology creates an environment for smarter working. Analysts can be presented with a digital profile of client data attributes in one place to unwrap corporate structures in more depth and identify ultimate beneficial owners (UBOs). Informed decisions can be made quicker to expedite the KYC element of the onboarding process. Risks will also be uncovered in a shorter space of time with higher levels of straight through processing (STP), allowing the analyst to focus on higher risk cases.
Digitally transforming KYC due diligence automates the bank's manual search procedure to perform live data sourcing and retrieval, intelligent collation and entity resolution. The outcome is a real-time digital KYC profile created every time, complete with dynamic audit trail, full data attribute lineage and source documents in compliance with your KYC policy.
By deploying technology to automate the manual process, analyst productivity increases which in turn reduces cost and backlogs. In addition, a digital profile at the point of onboarding provides a baseline for refresh and remediation which avoids the need to start over and perform KYC again. Instead, it creates an opportunity for further automation such as perpetual (pKYC).
Additionally, digital onboarding can; increase the proportion of new clients receiving faster approval, raise customer satisfaction scoring, minimize time spent on re-works and reduce onboarding operating costs.
The road to success
The move from fragmented architectures and archaic disparate systems is happening. Banks who are slow to adopt will lose out on potential growth and opportunity.
At Encompass we have banking customers that have benefited from 95% savings in analyst time with KYC search procedures reduced from half a day to under 9 mins.
Manual and inefficient processes are not only an internal headache, but also drive poor customer experience.
Customers are driving change and want to experience friction free onboarding when moving or opening an account. Those banks that automate KYC onboarding will be the first to benefit.
Digital transformation in banking is the operational and cultural shift towards integrating technology into all areas of the bank – including compliance. It optimizes operations as well as providing value delivery to customers.
You also might be interested in