At such times, bringing onboard new clients effectively and at low cost would appear a business imperative. The problem is how institutions do Know Your Customer (KYC) checks: outdated, sub-optimal business processes hinder flow of information, and put digitisation's potential to create real economic benefits beyond reach.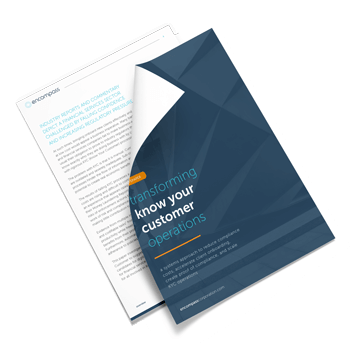 The results of failing KYC processes are:
client onboarding costs are rising and difficult to control
clients are frustrated by an experience that appears opaque and inefficient
Money Laundering Reporting Officers are exposed to risks of enforcement actions by industry regulators
the work of risk and compliance professionals is viewed by peers as making little contribution to wider business development initiatives
Evidence from multiple industries suggests that reassigning "routine and codifiable tasks" from human workers to computers raises productivity while freeing experts to focus on higher value work that benefits from their problem-solving skills, adaptability, and creativity.
In our whitepaper, we investigate the business process of Know Your Customer to suggest that identifying activities that are candidates for digitisation and automation offers a way forward for financial services and other businesses looking to improve outcomes for all involved in Know Your Customer processing.