product component
Ultimate beneficial ownership and corporate hierarchy discovery
Unwrap corporate ownership and control structure
Hiding criminal and corrupt activities behind the smokescreen of complex corporate structures is not a new tactic, but unwrapping even the simplest of structures to discover beneficial ownership and control remains a challenge for customer onboarding and Know Your Customer (KYC) teams.
With pre-existing integrations to critical sources of company data – from national corporate registers to premium data providers – Encompass automates the KYC discovery process to provide the full picture of a corporate customer, fast.
Understand corporate structures
Encompass streamlines the long and complex process of gathering and analysing data from multiple sources to unwrap a corporate customer's organisational structure.
Using Intelligent Process Automation), Encompass iteratively retrieves and analyses company information from an organisation's trusted sources, and according to KYC policy requirements. This information, along with original documents, is saved to an easily digestible customer profile, saving analysts significant time and eliminating the risk of human error.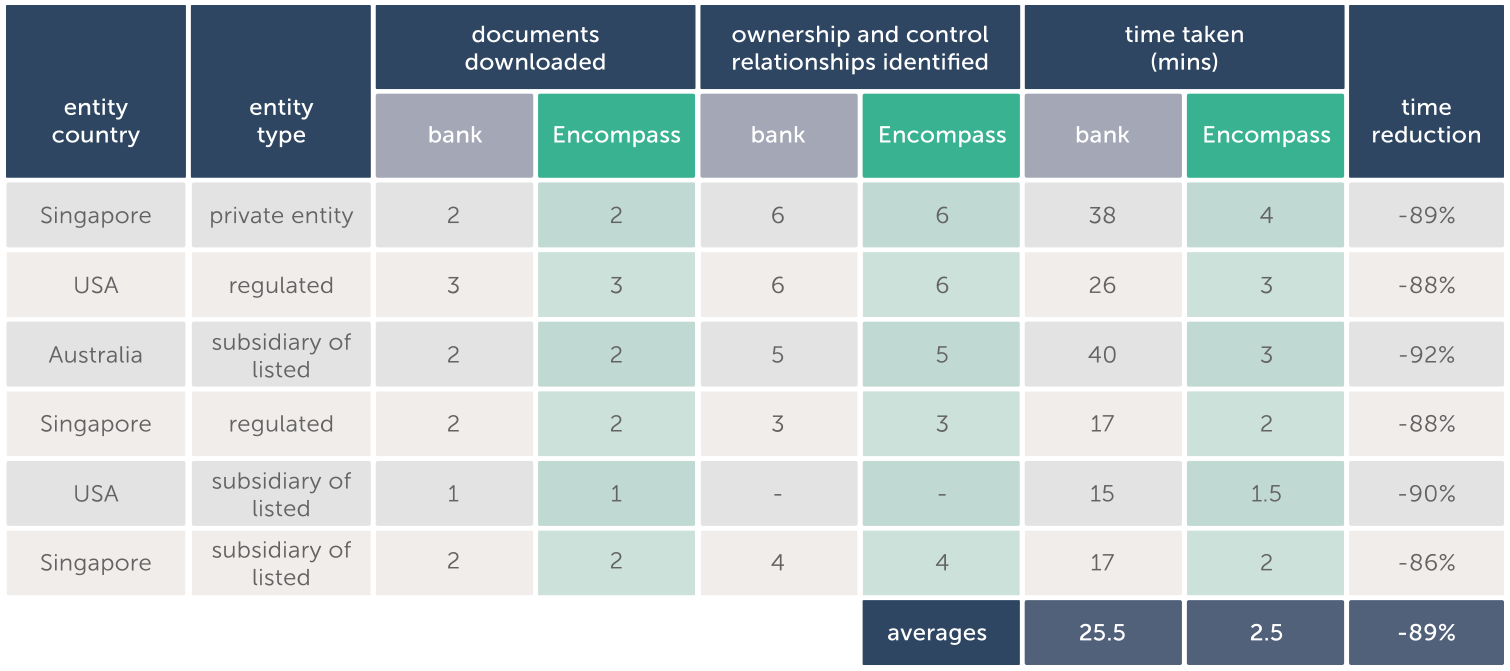 Discover beneficial ownership
Building on the unwrapped corporate structure, Encompass discovers and determines the Ultimate Beneficial Owners (UBO) of a corporate customer.
In line with regulatory requirements, and an organisation's custom definition of an UBO, Encompass will discover all direct and indirect ownership relationships, calculating shareholding percentages. Automation performs this activity consistently and accurately for each and every customer, ensuring a sound foundation upon which follow on KYC activities can be performed.
Improve KYC quality
intelligent automation eliminates the risk of human error and gaps in customer profiles for a deep, accurate picture of a customer
Gain full control of KYC
full automation ensures your policies and procedures are consistently enforced across your organisation
Reduce the cost of KYC
eradicate valuable hours wasted on repetitive, manual tasks and focus analysts on higher value activities and complex investigations
Improve customer experience
reduce time spent on KYC discovery by 80% for faster onboarding and reduced time to revenue
Discover what Encompass can do for you
Ready to learn more about Encompass' intelligent process automation platform for KYC?
Fill out the form to request your personalised consultation on how Encompass can help your business. You can also contact our team directly on +44 (0) 333-772-0002.