Encompass shoulders the heavy lifting in corporate KYC
Our clients are realising significant benefits of automating manual Know Your Customer (KYC) processes. Our AML compliance software simplifies complex and time-consuming KYC tasks. Flexible delivery options and our configurable platform make it easy for any institution to harness the power of KYC automation today.
Speak to our team or scroll down to learn more about the benefits of our AML compliance solutions.
Speed up customer onboarding
Encompass research found that four in ten UK businesses abandon banking services applications due to 'slow due diligence processes'.
Cumbersome KYC processes severely impact the speed and quality of customer onboarding. In proof of value exercises with major global institutions, our solution has consistently been proven to be up to 98% faster than a firm's existing processes.
Our solution has consistently been proven to be up to 98% faster than a firm's existing processes.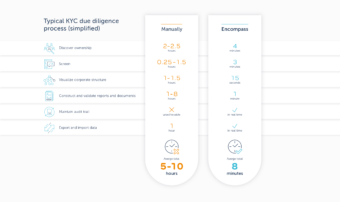 Improve AML compliance
Unwrapping corporate ownership structures to the level required by today's global AML regulations is beyond the scope of manual processes.
By automating this complex activity, Encompass helps regulated firms to see a more complete picture of their corporate customers. Encompass has been proven to unwrap 10x more UBOs and entities, and returns many more source documents.
Our AML compliance software provides a robust foundation to ensure the quality and effectiveness of subsequent activities in the AML compliance process.
Reduce regulatory and reputational risk
A more accurate and comprehensive view of a corporate customer enhances the effectiveness of PEP, sanctions and adverse media screening.
Encompass seamlessly screens relevant individuals and entities against an organization's chosen data providers in an average of three minutes.
Futureproof KYC
Existing manual KYC processes mean full due diligence reviews have to be repeated when there is an alert notification or periodic refresh required. Leading to unmanageable workloads for organizations and unknown risk exposure from outdated KYC.
Encompass automates the manual KYC data collation process and creates a digital KYC profile, providing a baseline ready to review when KYC remediation or refresh is needed. Streamlining the KYC process and refocusing analysts on a prioritized workflow of risks identified.
Increase KYC analyst productivity
Encompass elevates the role of analysts by eliminating the time-consuming task of manually rekeying data from multiple sources into onboarding systems.
By compiling complete, digital KYC profiles on demand, Encompass frees up analysts to focus on more complex, and rewarding, activities.
Evidence compliance
The number of manual steps in the KYC processes relied on by most regulated firms makes it impossible to maintain a complete and accurate audit trail.
Encompass' AML compliance software dynamically compiles a full and downloadable audit trail, showing every search, result and action taken in a regulator ready format, providing demonstrable AML compliance.
Maximize the value of CLM and CRM investments
Building and maintaining aggregation capabilities for a large number of data sources into CLMs and CRMs is beyond the resources of most organizations. Encompass API provides KYC Data as a Service, allowing regulated firms to streamline KYC processes by integrating critical data sources directly into onboarding platforms.
Reduce customer outreach
By providing our customers with integrations to the broadest set of global public and premium data sources, we allow you to retrieve more documents directly from the source. This reduces the need for outreach and significantly improves the customer onboarding experience.
"80% of the effort in onboarding is removed instantly thanks to Encompass. We've seen lots of efficiencies across the process and all of that creates a more elegant and speedier customer process."
Jonathan Holman, Head of Digital Transformation, Santander
See how our AML compliance software has helped top businesses