ACCELERATE RegTech 2019 – a valuable forum for Australian compliance professionals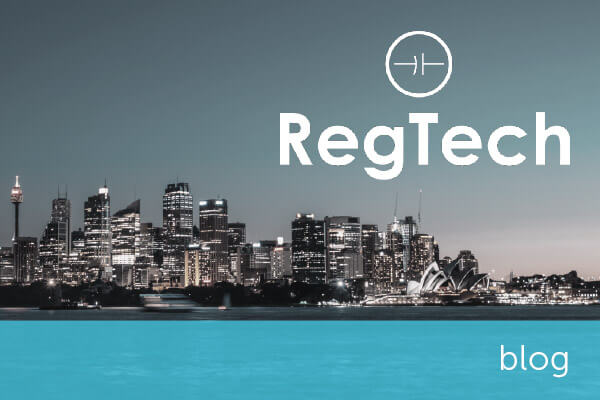 ACCELERATE RegTech 2019 – a valuable forum for Australian compliance professionals
Earlier this month, our Business Development Manager, Gary Clarke, attended ACCELERATE RegTech2019, hosted by The RegTech Association in Sydney.
Here, he shares some insights and key learnings from an event which brought together more than 300 professionals representing regulators, regulated entities, regtechs, government, technology firms, allied associations and professional services firms – who came together to examine the regulatory and compliance challenges facing businesses in Australia.
As part of the thought leadership panel, Lisa Dobbin, the partner leading Deloitte's Australian Financial Crime practice, Paul Franks, Director of Financial Services at SAS Institute, and Luke Bunbury, CEO of Volt Bank, discussed opportunities for regtech in the fight against financial crime.
The panel observed that, to be effective, regtech must become embedded in workflow, procedure and systems, while respecting rather than replacing existing infrastructure. Forward-thinking vendors, including Encompass, understand this and offer their software as a service that can be consumed as APIs from private cloud based systems. This approach provides financial institutions with a non-disruptive pathway to introduce new technologies into their ecosystems while maintaining control of their user interfaces.
Additionally, the same panel observed that compliance activities can less attention once a client is onboarded, and this decrease in focus creates a source of risk.
This theme was taken-up by Julian Fenwick, MD of GRC Solutions, who commented that there will never be enough compliance-focused people to solve the challenges of meeting existing regulations, let alone future ones.
Julian sees investment in regtech as the way forward, while noting a recent study by Refinitiv that found only nine percent of companies interviewed had implemented a regtech product.
Our experience at Encompass is that financial institutions understand that attention to Know Your Customer (KYC) must endure throughout the client lifecycle, however, their reliance on outdated manual approaches makes the work slow, is demotivating to staff and is highly expensive.
At some overseas banks, KYC profiles for high percentages of the entire client book have been left unattended for years, inevitably leading to massive remediation projects that are commonly outsourced to consulting specialists. In the digital age, this outdated batch-oriented approach is replaced by constant focus that ensures KYC profiles are updated in near real-time as events are recorded across the globe. Digital policies created by Encompass are as effective at creating and updating ten thousand KYC profiles as they are at unwrapping and documenting the corporate structure and beneficial owners of a single corporate client, proving the real value of a scalable, cloud-based architecture.
The panel on the RegTech Leap observed that technology will expedite a change to a new regulatory environment where regulated firms must comply and that, from the regulators' perspective, "speed is key". The panel recognised proactive compliance and real-time monitoring as the way forward.
Transaction monitoring undoubtedly plays an important role in this regime and the analysis of relatively small volumes of highly structured data is a core competency for analytics teams working within financial institutions. More challenging is the near real-time analysis of massive volumes of unstructured data sets created outside the walls of financial institutions.
This is where financial institutions can form partnerships with regtech firms, such as encompass. We understand that AI technologies such as Natural Language Processing and Understanding will play a critical role in reducing the cost and time expended by compliance specialists as they seek to understand how facts buried deep in emerging media reports might materially impact an institution's current assessment of risk posed by an existing client.
Congratulations to The RegTech Association and all involved for making ACCELERATE a valuable and informative forum.
about Encompass
Founded in 2012 by entrepreneurs Roger Carson and Wayne Johnson, and operating from the UK, Encompass is the creator of unique, innovative Know Your Customer (KYC) software for banking, finance, legal and accountancy that enable better, faster commercial decisions. The company is driven by the belief that the best decisions are made when people understand the full picture.
want to turn regulatory compliance
in to a competitive advantage?
Contact us today to arrange your personalised consultation of Encompass. Discover how our KYC automation software can help your business accelerate onboarding and give you peace of mind that you are regulator ready.
You also might be interested in