Key benefits of Encompass for challenger banks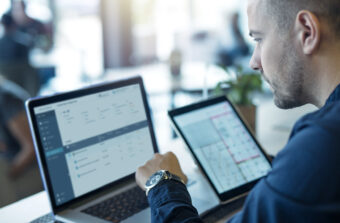 The emergence of new technologies has transformed the financial services industry and how banks respond to Know Your Customer (KYC), with automation, particularly, driving down costs while also improving the standard of KYC programmes.
Challenger banks have grasped the opportunity to make their mark, by embracing the solutions available to provide powerful digital experiences.
With this success, however, comes increased regulatory scrutiny, with several rapid growth banks feeling the implications of non-compliance in recent years. We know that, particularly due to the evolving regulatory landscape, evidencing robust KYC processes is critical, but enhanced compliance cannot come at the expense of the very level of positive customer experience that has made this sector so impactful.
In this blog, I will highlight just some of the benefits our solution brings, explaining how they power challenger banks' processes, help them to meet compliance obligations and ensure they are able to continue to stay agile and dynamic in an ever evolving market.
Simplicity
Now more than ever, financial services providers must excel, and offer a level of product or service that customers would not receive elsewhere.
As digitalisation drives higher expectations for quicker, easier, and borderless payments and onboarding, it is all the more important for institutions to build on quick, effective processes and outcomes.
Encompass is disrupting the KYC industry, while challenger banks are disrupting banking, through simplification and efficiency gains realised in technology. Encompass transforms onboarding by reducing costs and the time it takes to onboard a customer while improving quality. Ultimately, this accelerates the path to revenue and provides transparency across an organization at all times, thanks to standardized, repeatable processes.
We use a bank's established data sources, policies and procedures, and integrate with existing systems. When it comes to compliance, by utilizing the best in intelligent process automation (IPA), artificial intelligence and our demonstrated business logic, Encompass automates KYC discovery across all required sources to ensure increasingly stringent regulatory requirements are met in a way that does not negatively impact on customer experience.
Our platform can also be deployed immediately, resulting in a seamless transition from manual work to realising the advantages of automation.
Scalability
Historically, challenger banks have kept their client base to UK-owned businesses. However, to truly grow they must expand, and it is crucial this is supported by a robust, frictionless KYC onboarding process that facilitates fast and meaningful growth.
The complexity of onboarding customers based outside of the UK or with challenging ownership structures lies in the validation of the information available. To build integration with local public sources across the world takes significant resources and time that could be spent elsewhere by developers. As volumes increase and complexity rises, banks run the risk of growth slowing and customer experience suffering. With the pressure to make a profit paramount, the use of industry leading technology to drive global expansion whilst managing spend on compliance is essential.
IPA enables a consistent and robust approach to onboarding that can be successfully replicated across an expanding customer base without having to sacrifice quality, speed, accuracy, or increase hiring expenditure. Our conversations with those in the industry tell us that costs can spiral when hiring takes precedence over exploring new technology.
It is also important to highlight that, with Encompass, banks can onboard more complex clients as the platform enables them to identify risk quicker by automating ongoing monitoring, at an individual or entity level, against an organization's preferred suppliers of PEP and sanctions data, on a schedule driven by KYC policy requirements.
Agility
Challenger banks, and what they offer, are constantly evolving – one size does not fit all. So, they need a RegTech that can provide a range of data sources and processes that fit those required to comply with changing regulations and expectations.
A single integration of the Encompass API into existing onboarding systems allows organizations to take full advantage of KYC automation quickly and easily. We facilitate access to more trusted global data providers than any other KYC solution, which customers can easily benefit from, all to suit their requirements.
Our framework can be changed at any point, whether it be relating to a new product release or entering into a new geography with new regulation.
Experience
As I mentioned, experience is a key differentiator when customers are looking to providers. The ability to stand out here has been at the center of how challenger banks, on the whole, have been able to develop their market share up against traditional banks.
With remote working the 'new normal', customers expect a predominantly digital journey, and this is where challengers come into their own, with Encompass helping them to utilize the best in technology to provide real solutions and meaningful benefits.
But, it is not only the customer that benefits from tight and efficient processes. With Encompass, banks can be assured of effective cost and time management, to aid rapid growth.
Encompass reduces the total cost of ownership associated with client and third-party due diligence by increasing operational efficiency of the existing team. IPA also dramatically reduces the time taken to search, review, collate and report on multiple, structured and unstructured data sources, allowing analysts to focus on more business critical tasks. I
n a world where data is everywhere, banks are looking for solutions that allow analysts to work smarter not harder. Our solution can improve the transparency of the data and relationship between the data from different sources, evidencing any discrepancies. Encompass gathers and analyzes large volumes of information from multiple sources and collates live documentation to support this visualization.
Innovation
Encompass is an industry leader, providing unique technology and innovation that solves critical issues and supports banks' success. We are committed to listening to our customers and continually developing our platform so that it brings the most value, and we work to consistently deliver what they need.
Our flexible deployment options cater to specific requirements – the Encompass user interface offers immediate, easy deployment, allowing banks to automate costly and time-consuming KYC processes prior to a full CLM rollout. Post rollout, our API integrates to fully automate the KYC process entirely within the environment.
You also might be interested in