how Encompass solves onboarding issues in the legal sector
Manual Know Your Customer (KYC) processes are severely hampering organisations, leaving them exposed to risk, spiralling costs and the potential loss of business.
One of the primary challenges being faced in the legal sector is the time taken to onboard new clients using manual processes – anything from two hours up to days, or even weeks, isn't uncommon, depending on complexity – and this can have a significant impact across the board.
As a result, managed services for KYC are more in demand than ever before and, as the space becomes more competitive, both quality and speed of turnaround are vital to success and turnover.
Using technology, such as the Encompass platform, brings many advantages to both an organisation and its clients, solving this pertinent problem, as our Business Development Manager, Richard Beattie, explains.
the issue
Firms' processes when it comes to how they deal with KYC and Anti-Money Laundering (AML) in the legal industry are largely influenced by client expectation and regulation.
In the case of the Fourth Money Laundering Directive (4MLD), the vast majority initially responded to the requirements placed upon them by expanding their compliance teams, both on and offshore, in an effort to meet the increased demands.
However, with the same, often outdated, processes used as they looked to execute ultimate beneficial ownership (UBO) discovery and AML screening, the burden only grew.
It is for this reason that, in the past 12-18 months especially, we have seen a sharp rise in the number looking to technology for a solution to tackle these problems, with many now in the process of implementing improved CMI systems and/or an automated KYC solution, including Encompass.
ebook
Ultimate beneficial ownership
Exploring ultimate beneficial ownership and its role in laundering illicit funds
the solution
When it comes to onboarding, a well-managed and executed process is a must. From cost and time savings, to improving client experience, it is vital to the continuing relationships and brand reputation, as well as making it easier to ensure compliance.
On average, a KYC process will comprise of four or five different data sources, ranging from corporate registries and premium business information to AML screening and open source media.
The majority of firms we speak with access these sources to investigate corporate hierarchy and execute UBO discovery manually, which can not only be counter-productive, but also take highly skilled compliance professionals away from other, more pressing, potential high risk cases that require their attention.
The Encompass API links more than 150 data sources into a single interface, connecting organisations to the most in-depth and relevant data they need to make decisions
An understanding of the corporate structure and those with beneficial ownership and control of an end customer is a vital component of KYC. The Encompass platform integrates data sources and conducts intelligent analytics to deliver easy to understand global corporate linkage and personal share ownership, which also makes compliance obligations easier to meet.
Intelligent Process Automation (IPA) from Encompass enables firms to get the full picture on the people and entities they are considering entering into a relationship with, unwrapping complex corporate structures to get to the heart of who is involved in a business and consequently understand risks, in a way that is widely advantageous.
On average, the platform is able to distill the UBO discovery and AML screening process down to between five and ten minutes, providing the ability to onboard new clients significantly faster.
case study
Anderson Strathern
enhancing and accelerating client onboarding
This improved efficiency means quicker paths to revenue for the firm, as well as affording analysts more time to focus on risk scoring more complex cases, which potentially sit across opaque jurisdictions and require client input.
The power of automation is that the need for and dependency on people to conduct the onboarding process is either fully removed or significantly reduced.
In fast-paced, pressured environments, the rapid onboarding of new clients is absolutely paramount as it allows billing to begin almost immediately.
Through the years, compiling client data and profiles, as well as creating connected audit trails, has been done manually but, when leveraging automation, the cost of onboarding can be significantly reduced – in terms of monetary spend, time and operational risk, as manual labour is open to error when it comes to making sure processes are consistent and compliant with regulations.
All of these considerations can have a big impact on a business, from its ability to attract new clients, to reputation and, ultimately, profitability.
Automation executes the steps of the onboarding process seamlessly and simultaneously, reducing the burden on humans and making for a smoother, more effective process for all.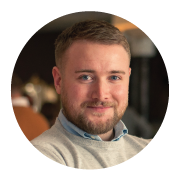 about Richard Beattie
BUSINESS DEVELOPMENT MANAGER
Richard is an experienced member of the Encompass business development and sales team, with specialist knowledge of the role of compliance within professional service firms. He has presented at industry events across the country, including the AIT Technical Meeting, R3 Small Practitioners Group, Future Lawyer Summit, and the LPM Annual Conference.
You can connect with Richard on LinkedIn.
Encompass' intelligent process automation conducts live document and data collection, analysis and integration from public and premium sources to bring transparency to complex corporate structures and ultimate beneficial ownership, delivering the most accurate and complete KYC on demand.