In the spotlight: Jay Patel, Head of Product Management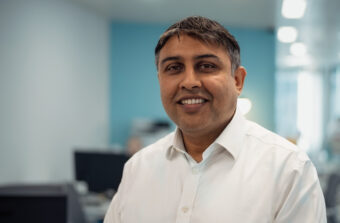 With almost two decades of product management and business analysis expertise, Jay has worked across three continents and is bringing his extensive experience to lead the product management team here at Encompass.
Tell us about your professional journey so far – how did you get to where you are today?
I began my career in technology straight out of university, providing market and trading data to end users. I worked with some great people at Wall Street Systems, where I was able to apply my technical skills and grow my trading knowledge by working with ex-traders, implementation professionals and customers.
I later joined Reuters where I started my Product Management career, which spanned 14 years and covered trading, risk and compliance. This was a great experience as we created many new applications using the latest technology, delivering solutions to our customers over the web through fully managed hosted services.
I then joined Bloomberg, where I continued to grow and apply my product knowledge to launch specialized KYC and data-driven products for end customers.
Through my journey, I've learnt that staying close to customers, understanding their pain points, and delivering products that make a difference for them is truly satisfying and leads to longer term partnerships and success for everyone.
What led you to join Encompass?
I was familiar with Encompass from my time in KYC. After working for some really big firms and seeing how you can become just a number, I was excited to join a smaller team of like-minded individuals with serious industry knowledge and experience, all pulling in the same direction. The Encompass founders, Wayne and Roger, also bring a strong personal connection to the company.
What appeals about Encompass is that it's a solution that applies intelligence to bring data together from some of the best sources in the industry in a meaningful way that makes a difference for customers. The focus on acquiring data efficiently and intelligently merging datasets enables users to spend their time on more high value tasks to solve real challenges in a difficult and important regulatory space.
What does your role at Encompass involve?
I lead a team focused on the roadmap and strategy of our product. We work closely with customers, key stakeholders, and partners. There is a lot of looking forward for industry trends, regulations, and innovations. No single firm can solve our clients' challenges in isolation, and recognizing we have a key role to play is critical.
What are the main rewards and challenges of your role?
Staying close to our customers and their evolving needs is critical for shaping our thinking and developing the right solutions. Balancing the needs of multiple stakeholders can be challenging at times, particularly when everyone is so passionate about moving forward. When we get it right and build features that our users love, that brings satisfaction, and I'm blessed to have a like-minded team of experts.
How would you describe the culture at Encompass?
We're a tight-knit firm, and to me it feels more like a family of industry professionals. We're well established with the right functions and best practices, and a lot of time and investment goes into onboarding the right people, which helps massively in ramping up knowledge across the whole organization.
It's a great team, there's lots of support, and it's a very open culture across the board. With so much remote working these last couple of years, Encompass' company days have also been amazing events, bringing people together and further enhancing collaboration across teams.
Learn more about careers at Encompass
You also might be interested in