Insights from the innovators on RegTech for financial institutions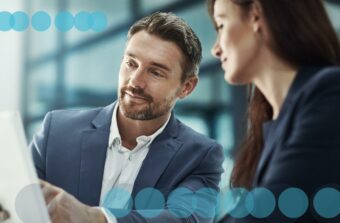 The regulatory technology (RegTech) sector continues to grow and shows little sign of slowing down.
Regulatory pressure is the catalyst fueling this rapid rise. Financial institutions have had to look for more innovative and efficient ways to meet their regulatory compliance obligations. In our latest article, we share insights on why financial institutions are turning to RegTech for the answers.
Research predicts that the RegTech market will reach a staggering US$28.33 billion in just four years. This is up from just US$5.46 billion in 2019. Tellingly, RegTech is expected to account for 50% of global compliance budgets by 2026.
Encompass recently asked experts at the forefront of innovation to examine the role new technology is playing in driving operational efficiencies. Sateesh Kumar Challas (Head of Digital Transformation Office, Société Générale), Brian Luciani (CDO & Venture Partner, SMB Franchise Advisors, and Mentor, Rise by Barclays), and Deborah Young (CEO, The RegTech Association) shared their insights, covering:
Why RegTech is relevant now
Where the industry is heading
Significant RegTech use cases
Key lessons for financial institutions
Financial institutions are turning to RegTech
The overall message from our innovators is that RegTech is proving to be a game changer. It is enabling financial institutions to unpack and address the complexities of regulatory compliance management. Within the financial sector, RegTech brings technology-driven reporting, monitoring, and tracking capabilities, and additionally provides improved data quality and real-time information.
Access to these solutions enhances overall workflows, leading to a significant upswing in productivity and efficiency – all of which are a key priority for many financial institutions in the current climate.
A further common theme is expansion, both through increased investment and in collaborative partnerships to explore improved, scalable solutions. There is no doubt that innovation within the RegTech space will continue apace not only to overcome the challenges of today, but also to grasp new opportunities in the future.
You also might be interested in