Capitalizing on downstream data from digital KYC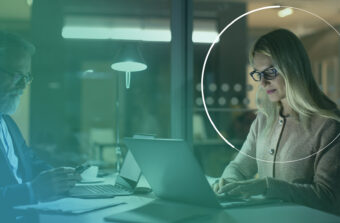 The Great Divergence, McKinsey's most recent Global Banking Annual Review, identifies 2021 as a trigger point year. In 2021 more than US$1.9 trillion was added to financial services market capitalization.
A new generation of financial services firms, focusing on applying technology to serve customers better, disrupted the sector and in doing so captured more than 50% of the sector's growth in market cap. Not all banks fared poorly, some did better than others. The out-performers behave more like tech companies and in doing so they put themselves on a trajectory that is diverging from that of traditional takers of deposits and makers of loans.
The disruptors and fast-following banks are capturing the lion's share of value by focusing on each customer's journey and identifying multiple opportunities to provide financial services. Winning each opportunity demands that banks develop deep data assets to provide insights on individual customers which inform customer service.
The process of Know Your Customer (KYC) due diligence, whether at onboarding or periodic review, is data hungry. KYC analysts must verify information collected from customers against trusted, independent sources. Depending on geography, some external sources provide data at no charge, however many trusted sources charge for access.
Banks operating KYC due diligence as a manual process by downloading files and documents and taking screenshots of websites see this customer data as single use. Once information is verified and a risk assessment made, customer files are secured as evidence of the KYC due diligence process, but their useful life is over.
Banks emulating tech-centric disruptors take a different approach. They operate KYC due diligence as a digital process, and data assets that inform risk assessments have rich afterlives. To illustrate, here are two examples of how data assets flow downstream of KYC operations deep into a bank's data architecture:
Master Data Management (MDM)
Many banks operate master data management as a means of ensuring each system that manages information about a customer operates on the same entity definition and instance. A bank may define their customer entity using more than two hundred attributes and engage a team of data specialists to maintain the values assigned to these definitions. Because KYC due diligence involves going out to external trusted sources of information it represents a good opportunity to review a customer master against newly sourced data to ensure the internal view of the customer is current and to refresh it when it is not.
Data lakes and data warehouses
Data lakes and data warehouses are used by data analysts to generate insights that inform great customer service. Data-centric banks recognize KYC due diligence as an opportunity to enrich their data repositories with fresh data about their customers which in turn can trigger opportunities for customer-facing staff in the front office to deepen relationships and offer new products and services.
In transforming due diligence to a digital workflow, banks lay the foundation for perpetual KYC (pKYC), which will likely increase the regularity at which they refresh their internal systems with customer data from trusted, external sources.
We all understand that tech companies are data centric. The banks that emulate the disruptors to win their share in the finance sector's growth in market cap, recognize that KYC represents an event to verify their digital definition of a customer and enrich their understanding of a customer's situation.
To learn more about how KYC automation supports customer experience initiatives and accelerates return on investment from customer lifecycle management projects, download our whitepaper.
You also might be interested in