Encompass announces new members of executive team to support expansion plans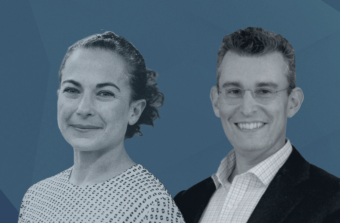 Encompass today announces two new members of its executive team to support ambitious growth plans.
Alan Samuels, who was previously Head of Product, and Magalie Pimentel, former Head of Marketing, have been promoted to VP, Product and VP, Marketing, respectively. As well as overseeing the strategic direction of their functions, they join co-founders Wayne Johnson and Roger Carson, alongside other key leaders, as part of the group responsible for steering global output and achieving key objectives
This management change follows Alex Ford, who held the position of VP, Product and Marketing, moving to a new role driving Encompass' launch and operations in North America, with further announcements planned for later this year.
Alan is now responsible for developing and delivering the product roadmap for the Encompass platform, API and data. He joined the business in January 2020, bringing more than 25 years' experience of leading product management and data operations in the financial data and RegTech industries. Previous positions include Global Head of Exiger DDIQ, Head of Entity Verification Services at Bloomberg KYC, and Head of Reference Data Services at Alacra.
Magalie, meanwhile, has been with Encompass since 2018, and leads the marketing strategy, with teams in London, Glasgow, and Sydney. She has held positions at leading business information and RegTech companies, in a range of sales and marketing roles. These include Dow Jones Risk & Compliance, Opus (Alacra) and RDC. While at RDC, Magalie developed and implemented the marketing strategy for launching RDC in EMEA.
This announcement follows a strong 12 months for Encompass, with the company achieving significant revenue growth and adding a number of top global banks and law firms to its client list.
Wayne Johnson, CEO and co-founder, Encompass, said:
I'm delighted to welcome Alan and Magalie to our Executive team. This recognises the significant contributions they have made so far, and the strong leadership they have shown in guiding their teams through successful growth stages. This is a pivotal time in Encompass' journey, particularly as we look to enter North America later this year, and our product and marketing functions will be at the heart of our continued development, with both Alan and Magalie at the center of ensuring we deliver in the market.
Alan Samuels commented:
I couldn't be more excited to join the Executive team and build on the fantastic work the team has done in growing the business, bringing on new customers and expanding into new markets. The Encompass platform continues to prove itself as a foundational piece of any highly-scalable corporate KYC programme.
Magalie Pimentel added:
I'm delighted to be joining the Executive team at such a transformational point in our company's journey. The growth and success of Encompass is a testament to our founders and leadership, and I look forward to building and leading a global marketing center of excellence to support this continued expansion.
You also might be interested in