An Overview of Encompass KYC Software
Just what is Encompass, and how does it work?
In this short video we show you just a few of our features, such as policy automation, customer remediation and documentation generated to ensure your firm is regulator ready.
Like what you see? Click on the button below to arrange your personalised demonstration of our KYC software
Book your demo
WHITEPAPER
TRANSFORMING KNOW YOUR CUSTOMER OPERATIONS
Industry reports and commentary depict a financial services sector challenged by falling confidence and increasing regulatory pressure. This whitepaper investigates the business process of KYC to suggest that identifying activities that are candidates for digitisation and automation offer a way forward for financial services and other firms looking to improve outcomes for all involved in KYC processing.
Download the whitepaper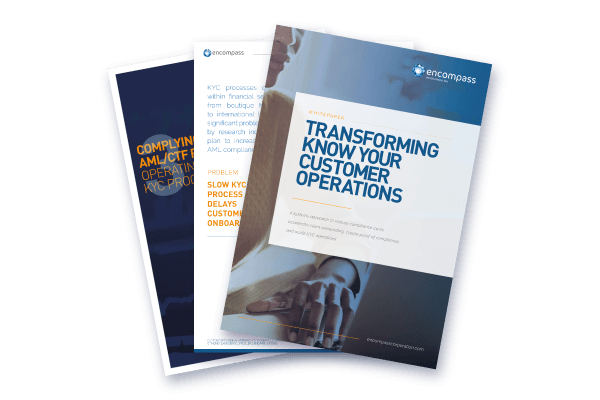 discover what encompass can do for you
Ready to learn how encompass can accelerate your client onboarding and compliance checks?
Fill out the form to request your personalised consultation on how encompass can help your business. Alternatively you can contact our team directly on 0333 772 0002.