In the spotlight: Hannah Stewart, Product Owner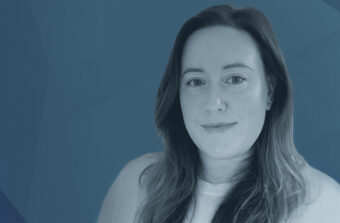 From Scotland, to the US, and back again – Hannah Stewart's journey to Encompass has truly been global.
With a background in politics and human rights, taking on a role as a Product Owner may have been unexpected but, after navigating through the early stages of her career, Hannah knew it was the perfect fit for her.
Here, she tells us more about her path, and what she thinks makes Encompass stand out as a business to work for…
Tell us about your background – how did you get to where you are now?
My background academically is in politics and human rights law but I wanted to go into a non-profit organization. 
I moved to the US – I actually have dual nationality – and worked in housing, homelessness, and also mental health, and that was just what I wanted to do, but I missed my family so came back to Scotland. 
At that point, I started in coding workshops, developed my interest, and aspired to understand more. After considering where I wanted to go in my career, I took on a role as a Business Analyst – that was all about solving problems, and I enjoyed the collaborative process. In this time, I worked closely with the Product Owners and learned a lot, so I knew that was for me.
From there, I moved to be a PO at an agency, working on different projects for different companies. One of those was a FinTech, and around KYC, so, when something came up at Encompass, I already knew a bit about the space.
What appealed to you about becoming part of Encompass?
It was the experience I had throughout the process. Speaking with the team, I knew it was an environment I would fit into. It is very agile and everyone is so supportive – I think Encompass stands out in that way.
Please explain what your role involves…
Getting involved in as many aspects of the product as possible. Working closely with developers is what I like to do. It is also about solving problems with people who have different skill sets and acquiring some of those, as well as seeing where the product needs to go and contributing to that.
Which part of your job do you enjoy most?
Working with the development team and learning from other people who are speaking with customers is great, and something that is really important for me.
How would you describe the company culture?
Collaborative and fun, with approachable leaders who care about our development. From our co-founders down, leadership want everyone to be part of the experience and of the future of the company.
How would you sum up your time at Encompass so far?
Full of autonomy and freedom – to learn about the product and to also learn about me and my role.
Learn more about careers at Encompass
You also might be interested in