In the spotlight: James Watson, Business Development Manager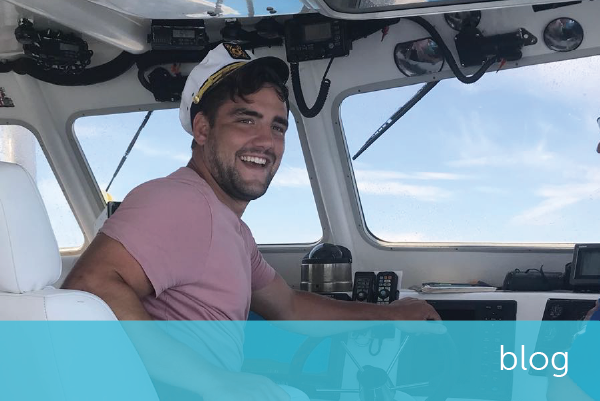 In the spotlight: James Watson, Business Development Manager
What does it take to work at a fast-growing company like Encompass? According to Business Development Manager James Watson, the scale-up nature of the business "means you need to be able to think on your feet."
With a background in financial services, James, who joined earlier this year, was drawn in by Encompass' mission and, when he found out more about how he could make it happen and the environment, he knew it was a perfect career fit.
We asked him to tell us more about being a member of our General Markets Sales team, and here's what he had to say…
what led to you joining Encompass?
I had worked in finance for four years at KPMG before coming to the world of fast growth SaaS companies. I missed finance but enjoyed a faster paced environment.
This position was the perfect mix of what I like and what I know! Who wouldn't find the world of financial crime and AML interesting?

what appealed to you about becoming part of the company?
There were a few things, as I mentioned, the industry was of particular interest, there is a big opportunity for career progression and most importantly the culture.
Towards the end of the interview process, I was invited to meet everyone and even had a 20 minute conversation with our co-founder and CEO over a beer… Not something you get to experience everyday. After that, I was sold.
please explain what your role involves…
Coming from a finance and professional services background, my role involves working alongside the General Markets team, Partnerships, Engineering and Product to meet the needs of our existing clients in the finance, challenger bank and professional services sector, making sure we give the best we have to offer, and find new opportunities for us within the industry.
how would you describe the company culture?
From the interview stage, I felt welcome and was made to feel that they wanted me at the company. It was not just a one way dialogue and that has continued throughout my time here. The scale-up nature of the business means you need to be able to think on your feet and work well with the resources you have, which can be quite challenging, but that is part of the fun.
Within a large company you can become very comfortable and often hide behind processes and think 'that's the way we do it'. A company like ours challenges you to question the status quo and use your own initiative, and I'm often finding myself having constructive conversations across the board.
which part of your job do you enjoy most?
Working together in the General Markets team. It's great to share experiences with the team and overcome any challenges together. Max [Worrall, Sales Manager] and Alex [Street, Business Development Manager]  are always more than willing to hop on to phone calls and help navigate difficult conversations.
I really enjoy speaking and meeting with clients and partners daily. It's great to have conversations where they can truly see the value of what it is you are speaking about, which enables us to identify and help these clients solve their business problems.
how would you sum up your experience at
Encompass

so far?

I only have positive things to say. I think I speak for the whole team when I say I am looking forward to being back in the office and meeting with my clients face to face. Exciting times ahead!
careers
Join the Encompass team!
There's never been a better time to join our team. Check out our latest vacancies in Engineering, Business Development, Product and more.
Encompass' intelligent process automation conducts live document and data collection, analysis and integration from public and premium sources to bring transparency to complex corporate structures and ultimate beneficial ownership, delivering the most accurate and complete KYC on demand.
[hubspot type=cta portal=6032599 id=9abe717a-73f6-4270-a7d2-82bcbb4211a5]
You also might be interested in