How automation is changing the face of global logistics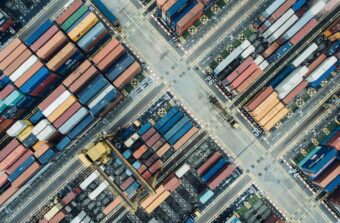 With individuals and businesses alike increasingly relying on technology to power output and enable the smooth completion of tasks, its benefits are clearer today than ever.​
Looking at intelligent process automation (IPA) particularly, this has developed significantly in recent years, and has now become central to work across various sectors.
Encompass' intelligent process automation platform for Know Your Customer (KYC) dramatically improves the client experience, significantly speeding up KYC processes.
Encompass automatically sources and processes information from public and premium data sources to assimilate a single view of a corporate entity, simultaneously returning alerts from screening data providers for the identified owners and controllers for KYC purposes – be that for new customer onboarding, event-driven refresh, or remediation.
The Encompass platform is delivering transformational change for financial institutions, and we can draw parallels to the sort of benefits automation has provided in a number of other industries. We've already explored the comparisons to manufacturing production lines and the aviation sector and, in this blog, Encompass' David Williams, Sales Director, Asia Pacific, focuses on its impact on the global logistics industry, and where the similarities lie.
The background and the need for automation
Speed, flexibility, and reliability are terms we are well used to when it comes to evidencing why automation is a must within financial services, but they are also key differentiators in the global logistics industry.
With consumer demand higher than ever and time of the essence, the flow of goods passing through the supply chain and arriving at their end destination has to be both quick and effective. Something that can only be achieved with the use of technology.
Much like in the case of KYC activities, technology, and specifically automation, is changing the landscape. Due, in no small part, to the increasing reliance on e-commerce resulting in expectations of instant service, a fast and frictionless experience must be guaranteed in order to continually secure business.
To meet demands, many global companies are now relying on technology-led systems to give the customer more control over their product and ensure maximum efficiency. Automating sorting facilities has been a priority for organizations in recent years, with UPS and FedEx, for example, putting more resources behind this way of delivery and reporting increased capacity as a result.
The digital transformation push
Away from sorting centers, the latest in technology is also having an impact on distribution from the high seas. From small boats to container ships, these vessels are integral components of the global economy, as ships transport approximately 90% of all worldwide commerce, according to the United Nations.
Akin to what we are seeing in the banking industry, digital transformation is coming to the fore, as manual processes make way for the next generation of autonomous ships, while companies utilize artificial intelligence and machine learning to design ports fit for the needs of today's society.
Smart sensors and real-time data are leveraged to gain a level of understanding of inbound traffic, port size, and live weather conditions not previously possible, allowing for more time effective procedures and a greater outcome.
Just as having an automated process can encourage financial institutions to perform KYC checks more frequently, allowing for improved risk detection, risk is also an important consideration in this environment, as insights help to reduce bottlenecks at ports and reduce the likelihood of costly accidents.
We know that manual KYC operations suffer from low productivity, and can also heighten the risk of errors. This is also true on the seas. But things are changing, thanks to automated measures because, as well as monitoring structural failure, smart port solutions have the goal of removing operator fatigue.
Speaking about the benefits of this move towards automated processes, especially on working conditions and morale, which, in turns, impacts output, Kyle Connor, Global Transportation Principal at Cisco Services, told Tech Republic:
There used to be a person who crawled up a long ladder and sat in a cockpit and looked at cameras and controlled the crane for four to five hours. The fatigue is outrageous.

Those same operators are now doing it remotely in an air-conditioned environment and can take 10 minute breaks and walk to the cooler and call their wife or whatever the case might be. So the fatigue is going down just through automating those functions and remotely operating them.
As I have explained, a number of companies in the logistics industry are seeing the benefits of automation – both in terms of human efficiency and boosting procedures.
At its core, automation works to reduce the burden of repetitive tasks on people, freeing them up to complete more complex duties that depend on human input. It eliminates human error that comes with manually performing tasks, streamlines how things are done and allows for a greater level of confidence that vital steps are followed, and this is a sector realising what embracing solutions can bring.
Learn more about intelligent process automation from Encompass.
You also might be interested in