how KYC and ID verification technology can improve the customer experience
Identity (ID) verification forms the very core of the Know Your Customer (KYC) process – do you know who the Ultimate Beneficial Owner (UBO) of your customer is and can you prove it?
Cases of identity fraud are rising
and getting this right is imperative, especially in a time when financial institutions are under increased scrutiny from regulators.
The challenge facing firms is how to introduce tougher UBO checks while still maintaining a seamless customer experience. Customers are demanding faster, more streamlined digital methods, so what are banks and financial institutions to do?
New KYC and ID verification technology provides the tools to make the onboarding process seamless and secure. In this blog we look at how the last few years have seen a paradigm shift in identity checks and how biometric verification holds the key to a new customer journey.
the evolution of ID verification in banking
Verifying the identity of UBOs, whether a sole trader or the directors of a multinational corporation, has become an integral part of the Customer Due Diligence (CDD) and onboarding process internationally. The Financial Action Task Force's (FATF) Recommendations on "International Standards on Combating Money Laundering and the Financing of Terrorism & Proliferation", outline the key aspects of CDD, including:
Identifying the beneficial owner, and taking reasonable measures to verify the identity of the beneficial owner, such that the financial institution is satisfied that it knows who the beneficial owner is.
As global regulatory requirements have grown, the requirements placed upon financial institutions have meant more stringent checks have been necessary. However, the rise of online fraudulent activity, hacking and synthetic identities has slowly degraded the quality of traditional forms of identity, such as passports, ID cards and credit data. As the number of data breaches increases year on year, these forms of ID verification are no longer the security check that can give businesses the confidence they need.
Biometric checks are the next stage in the identity journey. Biometrics were once seen as only for science fiction – imagine James Bond films with palm print door entry and eye scans. The technology has been growing and evolving since those concept days. We saw it first come to the mainstream in 2013 as part of Apple Touch ID's fingerprint recognition and more recently as Apple's Face ID for facial recognition in 2017. Biometrics are quickly integrating into many different parts of our lives, including financial services, as people see the speed and security benefits.
In parallel, we are also seeing more input from governments to develop centralised systems to verify personal information. GOV.UK Verify in the UK and Andhaar in India both allow individuals to create a verified digital identity that is portable. The centralised system and new biometric technology both have a common purpose – a more secure customer experience that is easier to manage.
what do customers want?
As global banks are under pressure to drive growth in customer onboarding, it is important to reflect upon customer expectations. The market is increasingly competitive, and savvy customers are quick to look elsewhere if an institution does not meet their immediate needs.
As a priority, customers expect a complete digital experience for banking. Their journey needs to utilise the channel of their choice (e.g. mobile). Not only that, the process should be in real-time with instant approvals and instant access. Add to this a heightened requirement for security and it's clear why evolution was inevitable.
benefits of using ID verification technology for KYC
So how does KYC and ID verification technology help the customer journey?
1 – speed
Biometric verification allows onboarding and compliance checks to be conducted simultaneously and conveniently. Customers are able to upload images of their ID which are then verified biometrically against a selfie. Results are available in minutes, meaning nearly instant onboarding and for financial institutions, a quicker realisation of revenues.
2 – flexibility
By offering a digital onboarding experience, the customer user journey becomes frictionless and goes hand in hand with other KYC checks. Where once there may have been a number of steps required, new ID technology reduces these and allows the customer to utilise the channel of their choice.
3 – security
New biometric technology focuses on the reduction in ID fraud and is the most secure option currently available. Biometrics are tricky to replicate and their very nature makes them difficult to bypass. This is in stark contrast to ID documents which are easily replicated.
4 – accuracy
Keystroke errors impair the onboarding process and result in many customers being rejected. ID technology reduces these errors and allows for straight through processing of customers.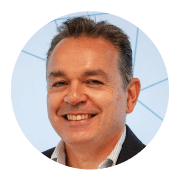 about St John Potter
PRE-SALES SOLUTION DIRECTOR
A senior member of our Delivery Services Group, St John is a highly experienced solution specialist with over two decades' working in the tier one banking sector including, JP Morgan, HSBC and Lloyds Banking Group. He has overseen strategy and execution of complex digital transformation programmes including client and product on-boarding and servicing.
Connect with St John on LinkedIn.
Encompass' intelligent process automation conducts live document and data collection, analysis and integration from public and premium sources to bring transparency to complex corporate structures and ultimate beneficial ownership, delivering the most accurate and complete KYC on demand.