Insolvency and legal professionals issue stark warning that one in three legal cases won't proceed and small businesses most affected
Press Release 2nd June 2016
A majority of insolvency and legal practitioners surveyed by Encompass Corporation believe that one in three cases where companies place themselves into insolvency while holding undeclared assets will not proceed to legal action due to a lack of funding available for investigation and prosecution.
The warning comes following a change in the LASPO law (Legal Aid, Sentencing and Punishment of Offenders Act 2012), which until April this year allowed businesses to insure their costs in the event of a failure to recoup monies owed to them.
Four fifths of the lawyers and insolvency professionals surveyed believe this change will lead to unscrupulous or illegal behaviour by directors who realise that the risk of legal action being taken against them has been significantly lowered.
Lawyers also warned that it will be micro and small businesses employing up to 20 people that will be most heavily affected as they may not have the financial resources to pursue a company without insured protection.
With the change to LASPO, 94% of the legal and insolvency professionals surveyed recommended that businesses should be much more careful when entering into contracts.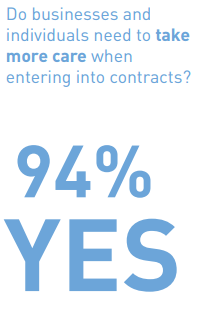 Wayne Johnson, founder and CEO at Encompass, said: "This change in the law may make pursuit of a claim too costly for creditors owed money by a company with assets of value but made insolvent by its directors. Our advice is to employ a lawyer or other professional before entering into new contracts and request that they thoroughly check the counterparty and establish whether any director has a history of involvement with repeatedly failing companies".
The LASPO survey results:
To receive a copy of the survey results, simply enter your email address and we will send them to you.
Notes to Editors
The survey was conducted by Encompass amongst senior lawyers, insolvency practitioners and financial advisers representing firms.
About Encompass Corporation
Founded in Australia in 2011 and launched in the UK in 2014, Encompass Corporation creates visual analytics products for legal, corporate insolvency, financial services and asset-based lending. The Encompass platform aggregates and analyses information on corporations, individuals and property from multiple sources. With more than 50 staff, including 30 in the UK, Encompass serves more than 200 firms who rely on its products to better understand complex commercial situations, to manage risk and compliance, and to make informed, timely business decisions.
More from:
Vaughan Andrewartha
Encompass Corporation
Tel: +44 (0)207 248 6058
Email: press@encompasscorporation.com
about encompass
Founded in 2011 by entrepreneurs Roger Carson and Wayne Johnson, and operating from the UK, encompass is the creator of unique, innovative Know Your Customer (KYC) software for banking, finance, legal and accountancy that enable better, faster commercial decisions. The company is driven by the belief that the best decisions are made when people understand the full picture.
want to turn regulatory compliance
in to a competitive advantage?
Contact us today to arrange your personalised consultation of encompass. Discover how our KYC automation software can help your business accelerate onboarding and give you peace of mind that you are regulator ready.