Webinar recap: How banks benefit from regulation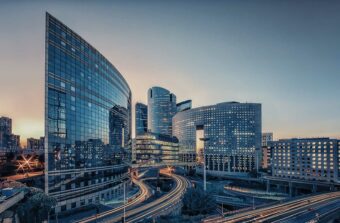 For the financial services sector, one of the key purposes of regulation is to improve security and standards within the banking system.
As regulations become more complex, does ensuring compliance present a burden or do these regulations actually provide benefits to banks?
This was the focus of our latest webinar, as academic and Head of Delivery and Customer Success at Encompass, Dr Henry Balani, shared insights from his research that explored the impact of the Fourth Anti-Money Laundering Directive (4AMLD) on bank valuations.
Within his presentation, he offered his own practical knowledge, gained through many years in the industry, as he focused on:
the current scope of regulations in the sector

what his in-depth research revealed about the benefits regulations bring for banks

the future of regulation and the role technology has to play
We look back on some of the key points from the webinar, which you can watch in full here.
The industry context
As Dr Balani discussed, AML fines are still in the news – and still a problem for institutions as they face the consequences of non-compliance. In recent years, we have seen large fines handed down to banks falling foul of their obligations, with a previous study from Encompass highlighting the scale of the issue. The spotlight on this has only increased as new regulations, such as the Sixth Anti-Money Laundering Directive (6AMLD), continue to be enacted globally.
We know that, as financial transactions have become truly global, as well as more sophisticated, the possibility of nefarious transactions involving bad actors has increased – driving the need for robust Know Your Customer (KYC) processes – and this is where technology has a critical role to play.
The impact of regulations on bank valuations
Getting to the heart of his presentation, after setting the scene, Dr Balani moved to ask, 'do regulations really make a difference?' To answer this, he laid out the findings of his own research, which he co-authored this year, questioning the effect of 4AMLD on the valuation of European banks.
The headline finding from this was that 4AMLD has actually significantly increased the valuation of these institutions.
The research, which was published in the academic journal 'Research in International Business and Finance', examined whether financial regulations end up costing more than they are worth, by understanding the impact of 4AMLD on banks' stock price and systemic risk.
It was discovered, Dr Balani told us, that, as a direct result of 4AMLD, stock valuations across the continent's banking sector have increased, while total risk has declined, pointing to benefits of regulations outweighing the cost of implementing and adhering to them.
Going further, he found that larger and more profitable institutions experienced greater positive impact, while those that operate in richer EU countries seemed to also see more of an advantage..
The reasoning
Why is it that 4AMLD, specifically, has had such an effect? This could be down to a number of factors, Dr Balani said, which center on the fact that, in the financial services sector, trust is paramount.
He reflected that 4AMLD reinforces this trust by improving transparency in enforcing compliance, improving the Enhanced Due Diligence (EDD) process, streamlining the identification and reporting of money laundering risks, and encouraging the standardization of KYC processes and customer onboarding.
According to Dr Balani, it is important that bankers and regulators alike take note of the fact that regulations are essential to protecting consumers whilst also increasing the valuation of banks, as this is something we are likely to continue to see as we move forward and look towards new regulations.
You also might be interested in