In the spotlight: Adam Jones, Head of Partnerships, Europe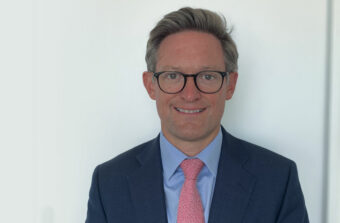 Before joining Encompass, Adam Jones had watched the company progress from afar, well aware of the strides being made.
Now, he is Head of Partnerships in Europe, leading the strategic alliances drive across the continent, and is at the center of making sure the growing partnerships team and value is maximized for both Encompass and those we work alongside.
Here, he shares what it was that led him to his current role, what it involves, and how he has adjusted in the remote-first working world that we are all currently living in…
---
Tell us about your background – how did you get to where you are now?
I started my sales career for Reuters in 1998, and benefited from a fantastic learning and development programme that gave me a solid grounding in sales and the financial markets. I have subsequently worked in various business development and sales management roles within the data, technology and regulated sectors. 
I have been aware of and following the work of Encompass since around 2015. Having worked in both technology and data as a vendor, I know the increasing importance of combining the two, and for Encompass, it is a case of right time, right place, when it comes to getting the benefits of the solutions out there. 
Before I joined, I also had a number of ex-colleagues who had worked or were working at Encompass, including Nick Ford [VP, Distribution and Alliances], who I respected and we remained in contact, which meant I had a solid understanding when the opportunity came.
What appealed to you about becoming part of Encompass?
It was all about timing. 80% of KYC processes remain manual and error prone, so I knew we had a problem to solve, and the tools to do it. It was also about the fact that I had existing relationships with people at Encompass who I trusted, so I could get a real feel for the culture and what was happening at the company. It was a winning combination.
Please explain what your role involves…
There is no one vendor that can solve the challenges that our customers face. What the industry wants is for vendors within the ecosystem to join together to offer solutions that are greater than the sum of their parts, and produce better results, and that is what we do.
I am very much hands-on with our partner relationships – ensuring strategic success and building the relationships, as well as working with internal stakeholders to ensure alignment on our goals so we can all work effectively together.
There is also a management aspect to my role now, so that involves both managing the team on a daily basis and recruiting people to come on board as we grow.
Which part of your job do you enjoy most?
I love working across strategy, product and commercial leads to help solve real problems for our customers. As a technology vendor, we are part of a diverse ecosystem of complementary solutions, and I enjoy helping to design creative and exciting solutions that solve real world challenges for the industry, and for society as a whole.
What are the challenges
?
The main challenge of partnering is achieving that goal alignment when there are multiple stakeholders involved. Just internally, you have several stakeholders – and that's without taking the partner and customer wants into consideration. Trying to get solution alignment across all of those in an efficient way is difficult, and means we are all under pressure.
How would you describe the company culture?
It is hugely collaborative and very supportive. It is also very energetic. You get a real sense that everyone is working together as a team, which is rare in itself. I genuinely feel that we are all working towards the same aims, and have a desire to succeed. Knowledge sharing is encouraged and supported, too, which I think is really important.
How would you sum up your time at Encompass so far?
I have loved every minute of it. I am impressed by the calibre and knowledge of the team across the board, as well as the warm atmosphere. Given I have only worked remotely so far, it has been great.
Learn more about Careers at Encompass
You also might be interested in